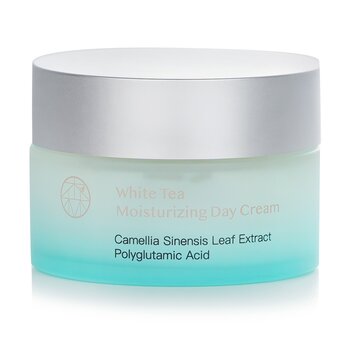 mori beauty by Natural Beauty White Tea Moisturizing Day Cream 55g
Product Introduction:
Fresh, fast-absorbing creamy texture is ideal as a makeup base to hydrate skin durably
Provides enhanced protection against external aggression in the daytime
Specially developed for Oriental women
Botanical-based, skin-friendly formula gives no burden to skin
Main Ingredients:
Based on White Tea - Mori Beauty carefully selects the essence of white tea, which contains flavonoids, caffeine and rich green tea polyphenols (catechins), which can effectively condition and improve rough skin, delay skin aging, strengthen the skin barrier and moisturize for a long time. Leaves skin soft and healthy.
γ-PGA forms an invisible mask to prevent moisture loss - γ-PGA will form a protective film on the face after absorption, like an invisible mask, which helps to moisturize for a long time and soothe dryness and discomfort caused by external stimuli. Effectively boosts skin radiance and translucency.
Vitamin B5 (panthenol) hydrates layers and fights invisible aging - locks in surface moisture, rapidly hydrates, deeply moisturizes, and boosts skin's water content to quickly relieve skin discomfort, while repairing damaged skin and smoothing lines.
Pearl extract protects the skin's elasticity and radiance - rich in trace minerals and amino acids, providing the skin with the nutrients it needs to regulate its metabolism and restart its regenerative vitality.
How To Use:
After cleansing, toning and applying essence in the morning, take an appropriate amount of White Tea Moisturizing Day Cream, and apply evenly over face, gently massage until fully absorbed.
€
87.90
Envío Gratis, VAT incluido

Agregar a carrito
Productos originales 100% GARANTIZADOS
ENVÍO GRATIS por correo certificado con guía.
La entrega a España toma normalmente 10-21 días. Una vez el paquete este aclarado en aduanas será enviado por Correos de España.

30 días de garantía para reembolso. Si hay algún problema con el producto, envíenos un email y vamos a darle una solución garantizada.
Utilizamos PayPal para procesar pagos seguros, incluidos los pagos con tarjetas de crédito.
Su compra está protegida por la protección del comprador de PayPal. Si usted no recibe los productos que comprado, usted puede solicitar la devolución de su dinero.
No hay opiniones. Sea el primero en dar su opinión acerca de este producto!